Dimensions: 8 x 5.6cm

Quality: 250 GSM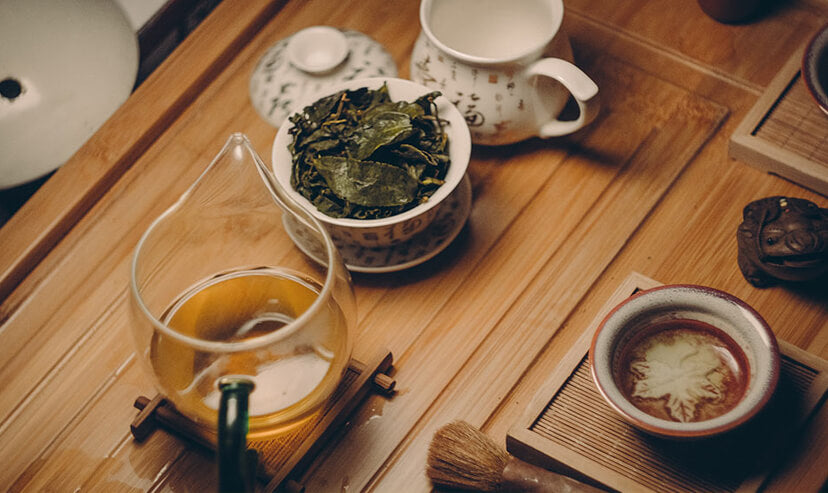 Testimonials
Chocolate lovers rejoice! What I have here is their Exotic Black Blends — 𝗞𝗮𝗸𝗮𝗼 𝗖𝗿𝗲𝗺𝗲 𝗧𝗲𝗮, a premium quality chocolate tea with a relaxing and slightly sweet sensation. This dark elixir combines organic Assam black tea with dark chocolate chunks to produce an irresistible flavor profile. Every sip a delight!
I love to pair 𝗞𝗮𝗸𝗮𝗼 𝗖𝗿𝗲𝗺𝗲 𝗧𝗲𝗮 with macarons, sweet indulgence like this makes me happy! Nice tea, highly recommended!

Jolene T.
The delivery was really fast and the package was nicely packed. The tea was exact to the tasting note stated in the description. Perfect choice as a gift too!

Au Q.
love this tea. feel so relex after drinking and it improves skin health as it contains anti aging properties. I love the low caffeine content so drinking before bedtime, there's no problem for me.

Goh S.
So in love with the fragrance and the richness of this Assam Tea! It warms my stomach and alleviates my mood. I also like how the brand uses full tea leaves instead of tea dust, as well as triangular tea bags to allow the tea leaves to move freely, expand and infuse its maximum flavour. This tea is truly high quality, and comes packed in a tin that is too pretty to throw away!

Tracy W.
It has a delicate rose fragrance that smells like a cup of fresh roses - the best tea to accompany you for a therapeutic art jamming session or even after a yoga session. It's smooth, delicate and has a mildly sweet taste follow by a lingering aftertaste that entices the taste buds for minutes after each sip. Would definitely recommend this premium tea and thank you seller for the speedy delivery!! :)

Tracy K.
This blend has a Super nice aroma! And I love because it's handcrafted organic Assam tea and organic chocolate. I drink it without sugar and it taste perfect. I am going to try to add some creamer to make it Kakao kreme milk tea! 🤎

loveesiqi
Love the citrusy taste to it ❤️ love how there's no caffeine also and is customizable (can add vanilla for more soothing taste)

Lydia T.
First time to try this Brand of Tea! And i love it! The Song of the sea flavour is very relaxing! Gonna order soon again! Delivery is fast! Thanks Seller!❤️

Jo-Anne T.
Love this tale of assam by Haflong. The bold and aromatic.. great to drink in the morning to energize and perk up my day

Y***
Tea was delivered fast and in super good condition too! Love the tea packaging too which looks premium and can be presented as a xmas gift!Great quality with a sweet floral aroma that is calming to the sense. Will definitely purchase again.

Gladys
Fast delivery and high quality tea! Loved the packaging too and the very premium tea bags. Would recommend it with a splash of milk too, and it's a great afternoon drink!

Christie W.
This is the kinda tea you would drink on cold gloomy weather. 100% recommended for people who loves earth tasting tea & theres is tons of benefits from turmeric. Best of both world 😍
Extremely fast delivery too!

Phoebe T.
I love how it's Low in caffeine with nice fragrance & i don't really fond of tea so much but drinking it really makes me feel better & boosts my appetite somehow! Also drank this during my period, it helps for me.☺️ definitely worth the try!!!!!!!

Hazellynn C.
Really love how quality and premium the tea is. The aroma is when keep me wanting for more. Definitely will purchase more again

Nicole W.
Love the packaging! The tea smells really nice too! Very fragrant and not too overwhelming for me! Highly recommended for tea lovers!

Erica Z.
Loveeeee the chocolatey fragrance once the can is opened. It slightly sweet, with an after taste of cacao!! Love it!

Dingyi
The product was well-packed and delivered in a nicely protected package. The tin containing the tea bags is also very pretty and can be kept as storage in future. The tea comes in individual tea bags which are obviously made with premium quality material as the tea bags did not look compromised when I reused them. More importantly, the tea tasted very nice and the aroma of the tea was mind soothing. This caffeine free tea had a slight vanilla and flora taste, making it a perfect choice for a relaxing afternoon.

Sharon L.
The prefect tea to drink in the afternoon as it has the least caffeine compare to the other range they offer. Overall I love how it is rich in antioxidants and it is definitely an instant stress reliever ✨

Celine H.
Tales of Assam was very fragrant and relaxing to the senses. Delivery of the tea was very quick too!

Priscilla C.
Loved the floral smooth taste of Verda Rozo Tea. Very pleasing smell and a balanced blend of rose petals and Assam green tea . Perfect for my morning tea and tea time.

Stella L.
Like the chocolaty taste and aroma of this Kakao Kreme tea, comes with nice packaging, definitely will purchase again!

Choco Y.
Came nicely boxed with a bag. Love the rejuvenating citrus scent and taste of the hibiscus, turmeric and lemon which were obvious. 🤩 Perfect afternoon tea option!

Sheryl Y.
Loving the slightly aromatic flavour yet full of freshness! I love to have this in the morning instead, probably I'm a morning tea person and this really sets my mood right to start the day! ❤

TAN E.
generous amount of whole tea leaves in a pyramid bag. flavour is deep and bold with a hint of citrusy note. it pairs well with milk, very smooth with no aftertaste.

Oslyn L.
Love the scent and taste of this tea, recommended :)

Audrey C.